The Future of Advertising and digital consumption
Advertising is here to stay. As long as there is commerce, there will continue to be advertising. There's just no other effective way to make products and services known to consumers. And if they don't know your product exists and what it does, they will not buy. Since the inception of mass media, advertising has continued to evolve tremendously especially in the digital ecosystems. When television took the world by storm, we didn't see anything else coming until the Internet empowered us in ways we never thought possible. We can currently use Google Adwords, Social Media Marketing and other digital marketing platforms to reach our target audiences.
While we still continue to enjoy the freedom and benefits of online advertising, there is a growing expectation that the future of advertising is far beyond anything we're seeing or doing today. If you were thinking about holograms or some form of space advertising because of something you saw in a SciFi movie, well, maybe you've drifted a little too far. We're yet to adequately take advantage of what the Internet can do in the world of advertising, and I expect that to be done in the nearest future.
Television has clearly taken the lead for over a century, especially as it concerns reaching targets simultaneously. But a recent report by the Interactive Advertising Bureau has shown that digital advertising revenue has surpassed that of television, with US $72.5 billion spent in 2016. Even with this growth, we expect unprecedented transformations within the digital ad industry in the coming years. But within this budding ad industry, what will internet marketers focus on to push their products in the future?
What will drive Advertising in the Future?
The future of advertising is probably already with us. There is a noticeable paradigm shift in the way smart marketers want to connect with internet users. The truth is that the present interruptive and forceful ads that flood the Internet do not exactly enhance the browsing experience of users. There are more pissed users than satisfied ones, and more people are beginning to shut down popups even before they fully appear. To move forward, ads should connect and not just try to inform or persuade.
So what will marketers focus on in the future when they plan their campaigns?
In the years to come, the importance of content will be emphasized more than ever before. Consumers are increasingly seeking for brands they can feel, and not just brands they can see. They are increasingly seeking for the How and Why and not just the What. Pop-Ups and Interruptive advertising are unable to provide better information about a product. Plus, Internet searchers do not want to be distracted from a page they've spent the last hour searching for.
So what is Content Marketing? According to the Content Marketing Institute, it is "a strategic marketing approach focused on creating and distributing valuable, relevant and consistent content to attract and retain a clearly defined audience and, ultimately, to drive profitable customer action". I have decided to adopt this definition by CMI because no other definition can clearly encapsulate the true components of content marketing.
This goes beyond pitching your product or forcing it on people. With content marketing, you're providing useful and relevant information that can help them solve their problems. If consumers find your content useful enough and can rely on the information you have provided therein, they'll more readily trust your product too. The world has moved away from the time when advertisers treated consumers as robots and people who couldn't think for themselves. Then, the hypodermic needle theory was in full practice.
Things have changed today. The future of advertising will depend on marketing campaigns that truly respect the consumers and answer their questions. As consumers become more aware, it is expected that content marketing will lead the train in the future. But it didn't just start today. Content marketing has to be embedded in everything you're already used to; from SEO, social media, PPC, and content strategy to your public relations practices. The key is for the receiver to get value from it.
The image below illustrates how content marketing needs to work.
To better understand why content marketing will play a better role in the future, consider the statistics.
Forms of Content Marketing
Web pages: If you desire to place marketing contents on a webpage, you must realise that it is different from just any kind of content. Your marketing content has to be fascinating, valuable and relevant. It must capture the attention of the audience and provide "useful", "valuable", and "relevant" information.
Videos: I know YouTube comes to mind here for their vast experience and reach. Regardless of how much content marketing videos you think you've seen, this form is still largely untapped. People are still intrigued by what they can hear and see. This will go on for many years to come. If you can pass your information using a quality video, you can't imagine how much it can do for your business.
Books: eBooks have suddenly become a big deal in the content marketing world. Apart from teaching people a thing or two, smart publishers now use this effective medium as a way to sell their products and services too. Besides, it's a status conferral symbol to be called an author. It makes you feel important and also like an authority in the subject you've written about. 
Just as it has been for the last 100 years, influencer marketing will continue to be a large part of advertising in the future. The celebrity culture doesn't seem like it will ever fade away, and as long as people have their idols, they can be easily influenced. People Magazine attracts 4.6 million readers every week and it is the most read American Magazine. The simple reason is that people are obsessed with their celebrities. They want to see what's happening in their lives, and yes, what they're wearing too.
This is why celebs get a lot of endorsement deals, especially from fashion companies, automobiles, wristwatches, and so on. The simple explanation is that I want to wear a Rolex because I have seen Dicaprio wear one, and I believe it will make me feel like I belong to a certain class. The best brands who take advantage of influencer marketing actually look out for stars who already use their products and advertise with them. I have mentioned Rolex before because it is a very good example.
In the last 5 years, attention to influencer advertising has grown dramatically. It truly can make sales rise through the roof and it is very cost effective. There are three (3) key factors that smart marketers should pay attention to in the future.
Use Influencers who are interested in your Products: It is not worth your money and time to use just any celebrity because they have a huge social media following, if they don't use your product or service. Apart from it being a little deceptive, you will get the best results when people actually see your favorite celeb rocking your brand in public or even in their homes.
Be sure the Celeb has the Attention of your Target: Just because your proposed influencer has 10 million followers on Instagram doesn't mean they can successfully reach out to your targets. Understand that there's a difference between "reach" and "reaching out to". While the former is a factor of numbers, the latter has to do with influence. However, will using a particular celebrity translate to buying decisions by his followers? That is the question to ask.
Hold Celebs Accountable: For some reasons I may never understand, some companies are satisfied with just paying an influencer and producing a campaign without any attention to success. I often advise business owners to clearly spell out their goals from the very beginning. Let them know what your short and long-term goals are and what you'd like that specific campaign to achieve.
A successful influencer marketing campaign must put the following into consideration;
Ensure the influencer is the right person (character) for the job.
Give your influencer some creative freedom to express herself.
Identify small-circles influencers too.
Be sure to clearly negotiate the price.
Don't be carried away by the Influencer's follower count.
Don't be too promotional with the campaign. Be more organic than sales.
Carry out campaign analysis to check the progress.
Don't be afraid to state your objectives and demand value for your money.
But it's not just "celebrities" that can influence people to buy your products. There is a growing market that we need to pay attention to. People trust their friends to recommend products they have used. This is a kind of mouth-to-mouth influencer marketing. The image below explains the power of this form.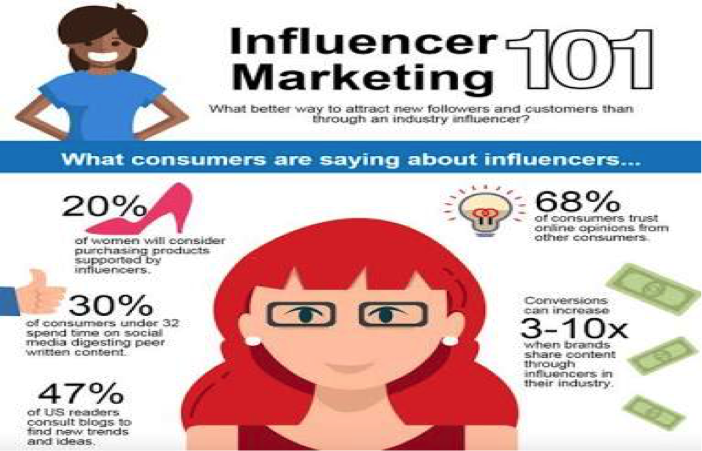 This is a very new digital form of advertising and has grown noticeably in recent years. Social commerce enables you to buy a product from a third-party site while you engage normally in the social media experience. Here, you don't even need to leave the social media site to buy a product. You can browse, compare and buy the product on the same platform, Facebook, Twitter or any other platform. You don't even need to go to the actual seller's site to do that.
Presently, only Facebook, Twitter and Pinterest lead this social commerce trend, but I expect more platforms to join in the coming years. Did you even know you can now sell and buy on the Facebook Store? You can talk to potential buyers, upload pictures of your products and sell directly on Facebook. Just be sure to post the right products on your shop page and pay close attention to your top sellers. This is how social media is establishing itself in commerce, not just through backlinks, but as a major tool for social commerce.
Twitter has also partnered with several e-commerce platforms to make shopping on Twitter quite seamless. If you already have a vast following, this is one avenue you must take advantage of. Then, there's Pinterest. Since its buyable pins introduction in 2015, the company has recorded more than 100 million users already. It is also the leading site in terms of average value of sales made, currently at $50. Social commerce is making e-commerce so much fun.
You're interacting with your friends and loved ones, and the next moment you're selling a few items. This is what the future holds and it's amazing. By 2018 and the years that follow, I expect more social media platforms to follow suit and more companies to take advantage of this form that may well become the future of advertising. So while you contemplate on the next steps for your company, you should put this into serious consideration and set aside a reasonable budget to push this through.
When Mary Meeker predicted in 2008 that mobile will overtake fixed internet access by 2014, I'm not sure a lot of people doubted it. Even at that time, the signs were clear for everyone to see. It was clearly proliferating the world in ways we couldn't even imagine. Today, it amounts to more than 60% of internet searches. In 2020, 80% of internet users will be doing so with their mobile devices. I think you should write that down.
A recent report by smartinsights.com, and compiled by ComScore, on mobile usage across the World showed that mobile devices dominated total minutes spent online, with 71% in the United States and as high as 91% in Indonesia. With this huge potential, knowing that the world is going mobile, it will be disastrous to have a site that is not mobile-friendly. It will even be unwise not to adopt a mobile-first index when planning your ads. From inception, we know that mobile usage has continued to rise globally.
Now that we know, it's no longer a question of whether mobile marketing is important or not, because we know it is, you should be planning how you can take advantage and build your campaigns to be mobile compliant. That is the way. If anything, the mobile revolution will drive the future of advertising, making it easier, faster and more convenient for people to see your ads and make buying decisions on the move.
Conclusion
When I say the future, it is here already. The revolution has started and just like the age that we're in, people are moving really fast. The future of advertising will depend on so many factors, but those who will lead that future and dominate in business are those who will pay attention to the signs and adopt these practices.