Understanding and leveraging visibility using Google's Major Ranking Signal 
Google ranking factors. Do you feel like you're doing enough and not getting the SEO results you desire? Does your webpage rank poorly on Google's SERPs? By the way, that means Search Engine Results Pages. The truth is, you're probably not doing just enough, or maybe you're doing too much of the wrong things. Arguably, SEO retains its top spot as the single factor that can enhance your site's visibility on Google, but to take advantage of this, you must understand Google's Major Ranking Signals.
There are more than 200 components that make up Google's ranking algorithm but you might be wasting your time if you try to do everything. So let's stick to the major ones. SEO isn't really about ticking every single box; it is more about identifying your priorities and handling them diligently. While there are a few I would talk about, backlinks remain a top factor. You need to learn link building strategies for local SEO, as it is a major ranking signal for Google SERPs.
Link Building (Backlinks)
This is one of Google's Major ranking signal that you should closely consider. Whether you run a local or global business, it is important that you pay attention to link building as a major tactic for Search Engine Optimization. After all, once you're on the web, you've gone global already. There are quite a number of link building strategies that can help your local SEO results. Some of them include;
If you run a local business, servicing a particular state or country, local meetups can truly help you build the links you get to your pages. You can visit meetup.com to check for local meetups and get involved. Most of these local meetups lack permanent locations for their meetings. You can offer them your business as a meeting location. This will help you familiarize yourself with them and have them know your business well. One or two other investments in their activities can win you that local link you truly desire.
Focus on Local Review Sites
I know we all like to focus on big review sites with enormous popularity and lots of visitors. However, if you intend to improve on your local SEO, you should focus on local review sites for their local relevance amongst your target customers. These sites and their contents are targeted at local searchers who require the services you offer and providing backlinks for your site will greatly help your business.
This is another important link building strategy for local SEO. You should target local bloggers who are actually out looking for content. The same is true about local newspapers that have an online presence. While they can do a lot with the rich information you provide, they also help you get more links to your site.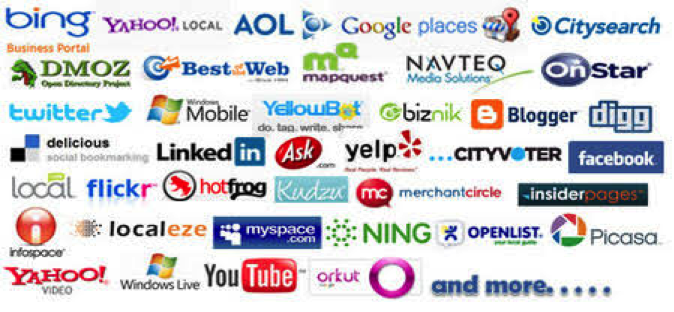 The image above shows some of the best local directories with which you can share information about your business. They do not have to be huge and generic with very flamboyant names. Just ensure they're genuine, reputable, and relevant to your business type. This can also help you with massive link building.
This is much like attending and sponsoring local meetups. However, it's a little different in scope. You should throw in a little investment for these events and promote your business in return. Do not settle for just having your logo placed. You can request that they also link them back to your site.
What else you can do…
Generally, links help you drive traffic to your site directly. We all want great traffic on our sites because that is what leads to an increase in sales, and consequently, an increase in ROI. There are some other general link building strategies for local SEO that you can adopt;
Know Your Audience: This doesn't only refer to your present audience, but more importantly, your potential audience. You need to know who your ideal audiences are, their online behaviors, and how you can get them to your site. By knowing your audience, you'll have a pretty good idea of what websites they'll likely visit and perhaps try to build contents around those.
Identify Websites that Attract Your Ideal Audience: This has to do with knowing those websites that your present and target audiences already find appealing. It's a good thing you already know who your audiences are. This will aid you in finding out those websites that already have their attention. Building links on these websites will help direct them to your site.
Create Beautiful Contents: You cannot attract other websites to link to your site if you do not produce amazing contents. Also, the audience you're trying to win over must find your contents engaging and appealing. Consider the structure, truth, authenticity and authoritativeness of your content. These are what attract your audience, as well as what Google looks out for in ranking your site.
Pair Contents with Suitable Websites: Now you already have a list of websites you identified as appealing to your target audience. You also have your amazing contents available. It is now time to match these contents with the appropriate websites. Lookout for the websites on your list that fits the theme and philosophy of your content. It is only when you're sure that your contents are relevant to their sites that you can reach out to them.
Contact the Selected Websites: This is naturally the next thing to do. You should reach out to these sites that you have found to suit the contents you have written. Remember these are the websites with which you want to enhance your link building capacity. A phone call, an email or even a Tweet is a good way to get in touch with them. Don't be too formal about it, but respect courtesy.
Take Advantage of Social Media: Social media platforms are other great ways to get links and reach new audiences. You can post about your blog or site on Facebook, leaving a link in the process. Tweets are also a good way to reach both old and new audiences and drive traffic to your site. This link building mechanism is getting very popular amongst business owners, especially due to the continued proliferation of social media.
Your link score in all of these link building efforts is one factor that Google uses as a ranking signal. Other ranking signals include; 
Content
We're all aware of the internet marketing phrase; "content is king". But we also need to know what specific content quality Google is looking out for. Generally, there are two types of contents; the main content and the supplementary content. While the main content is the article of focus- properly written, well positioned and with the right size- that brings a user to your page, the supplementary contents are what might keep them on your page. If you don't believe me, here's what the world's richest man has to say;
They are obvious enough to be noticed, but should not take attention away from the main content. There are basically three things that Google will check to see if you did right.
Length: The length of a page's content is obviously important to its quality. That is according to Google's search quality guidelines. This will also determine your site's ranking. However, Google admits that your page's title and purpose should determine the length of your articles, but advice that you look out for pages with similar keywords that already rank high, and have an idea of what a satisfying amount of content will be.
Keywords: There is no way to get your page appearing at the top of SERPs without adopting the right keywords for SEO. And for keyword usage, your title is key. It remains the most important signal to Google and must be properly optimized with the right keywords. Also, using keywords in your meta descriptions and the article's body are also very relevant, even though not as powerful as the title. The H1 tag usually carries the most SEO weight of all the headings.
Comprehensiveness: This has to do with how relevant your content is to the subject it has treated. Can people find the right information about certain issues that your page has supposedly treated? Can people rely on your page for both qualitative and quantitative answers to their questions? Will people find good user satisfaction when they read your content? Google looks out for such metrics in likely terms and phrases that should appear in your article.
Authoritativeness/Expertise: This is how you win Google's trust and respect. It is what is generally called E-A-T (expertise, authoritativeness, and trustworthiness). To ensure that users have confidence in information they get from a page, google asks that they look out for the site's About Us,
Contact or Customer Service, and other details on who runs the site and is responsible for the contents. 
Technicality of Page
SEO is also greatly determined by the technicality and architecture of your site, and google is also curious. For technical SEO, they need to know two things;
Mobile Friendliness: Before anyone can even determine the quality and comprehensiveness of your contents, they need to be able to access your page, even with their mobile devices. More than half of google searches come from mobile devices. If your pages are not optimized for Mobile phones, there won't be any mobile search ranking for you, and that is a major loss for you in today's business world.
Speed: Google recently confirmed that speed has become a ranking signal. It is important that your page is able to load in less than two seconds (all other things being equal). Otherwise, you will be a victim of lower conversion rates. You should be sure to compress resources such as pictures, scripts, and CSS files if you're going to rank high on google for speed.
User Experience
Google believes searchers are in the best position to decide what is relevant and what is not. What this means is that if users have chosen to go with a particular search result, it is likely to be more relevant than the other pages on the SERPs. One way to measure this is to look at Click-through Rate (CTR). CTR is merely a ratio of the number of times a SERP listing was clicked to the number of times it appeared. It is a major ranking signal used by google.
Reviews:
Reviews are the major determinant of your site's reputation and what people (and yes, google) will think about your product or service. It is a bit outside of the original SEO factors, but, according to google, can tell a lot about the quality of a site, and therefore how well or badly it will rank. In Google's words, "When the website says one thing about itself, but reputable external sources disagree with what the website says, trust the external sources." Expert opinions and experiences of users often count more than what you say about your site when it comes to Google's ranking signals.
Further Notes…
Two things that are essential for your site to do well in Google's SERPs are Relevance and Quality. If you look closely, you'll realize that most of the things I've explained here as Google's major ranking signals all revolve around the quality of your site and its relevance. Even in link building for local SEO, the sites that you intend to place your links are interested in the quality of your page and how relevant your content is to their users, and so should you.
Google has also taken it as a point of interest to assess the quality of the websites that provide you with links. As much as you must maintain strict quality and discipline on your site, be sure that those on which you have your links have a great online reputation too.
Conclusion:
This guide has been able to expose you to link building strategies for local SEO and how they combine with other factors that make up google's major ranking signals. You will do well to pay attention to these things so that you can adjust your site's viability by enhancing its SEO and watch it soar high on search engine results.